If there is one staple of a rocking fat loss diet it's the salad. Salads are an awesome way to inject some solid nutrition into your diet without all those unwanted calories.
However, I know the daily salad routine can get pretty blah if you are eating the same salad over and over. So I decided to put this post together to help you spark a few ideas on how to spice up your daily greens.
I usually put my salads together in three parts, green leafy, proteins, and the extras. I love my spinach so I usually use spinach for my green leafy but that doesn't mean you couldn't use just good old iceberg lettuce or romaine. For my protein, I tend to lean towards tuna because it's cheap and easy. You can also use chicken breast, hard boiled eggs, and if I'm feeling extra special I will throw in salmon. The extras are my favorite part. I love broccoli. Yes you heard me, I love broccoli, and I will jam my salad full of those wonderful mini green trees. Now if you aren't a broccoli lover, you can still put plenty of other extras like cucumbers or tomatoes. Don't be afraid to go crazy with the extras I usually pack my salad full of extras!
Here's an idea of what you can put in your salads:
Green Leafy
Spinach
Kale
Lettuce
Broccoli
Romaine Lettuce
Cabbage
Collards
Iceberg Lettuce
Proteins
Tuna
Chicken Breast
Steak
Salmon
Eggs

 

Non-Meat Sources
Beans and Legumes
Nuts and Seeds
Quinoa
Tofu

Extras
Cucumbers
Black Beans
Tomatoes
Carrots
Peppers
Jalapenos
Olives
Cottage Cheese
Shredded Cheese
Strawberries
Raspberries
Vinaigrette
Olive Oil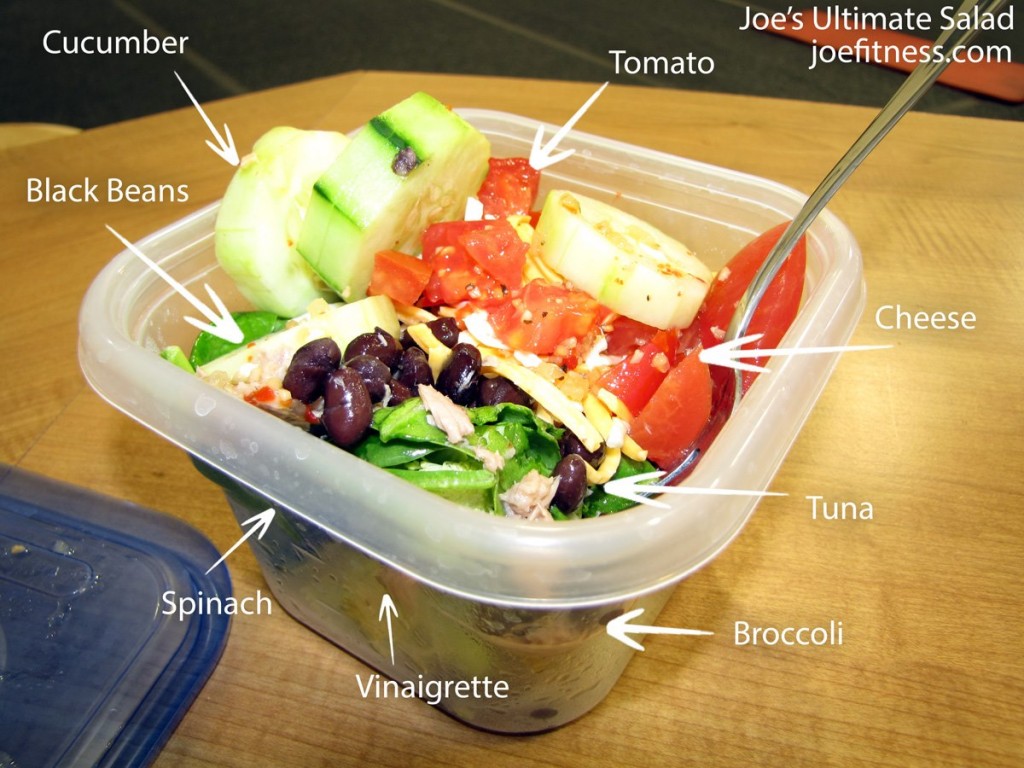 Side note: Black beans are one of those things I was sure I didn't like until I actually tried them. They are great in salads. So just because you think you don't like something, don't be afraid to throw it in your salad. You might be surprised what you like.
Now, this is just an idea of what you can put in your salads but certainly isn't everything. One tip to keep your salads under control is to make them in a Tupperware container that you can easily throw into your lunch cooler. The size of the container will make your salads the perfect size for lunch and keep you from going overboard on the greens.
I've said before with salad dressings is to avoid the cream based dressings and go for the oil based ones. They may be a bit higher in calories, but the healthy oils contain good fat that helps your body absorb the nutrients in your bowl of green goodness.
On a final note, preparing these salads can take a little time, but you can easily make a few days worth of servings at once. At our house, we make up several days worth of salads in Tupperware containers. This makes eating healthy on busy days much easier because we can just grab our lunch and go.