Ever since Gatorade was invented in 1965, the rise of sports drinks has grown into a billion dollar industry. Gatorade is now PepsiCo's 4th largest international brand. So it's not surprising that these sports drinks are being consumed other then during sporting events.
Sports drinks are a solution of water, sugar, flavoring, and electrolytes mixed together to produce sweet tasting and refreshing product. They are commonly endorsed by big names like Micheal Jordan and are often targeted at young adults and children. Sports drink marketing is everywhere from large aisle displays at the grocery store to Super Bowl commercials. There are few professional sports that you don't see a Gatorade cooler.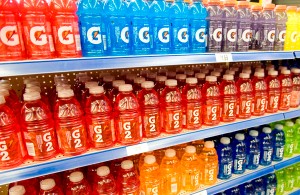 Feeling the pressure of calorie conscious consumers, PepsiCo introduced a few low sugar versions of their famous sports drink. The lower calorie versions have artifcial sweeteners to keep the sweet flavor without the added calories. However, they're original high sugar drink is still a very popular seller.
Do we really need to being drinking sports drinks? I contacted a food and nutrition expert from my alma mater to get the skinny on sports drinks. Dr. Julie Garden-Robinson is an associate professor at North Dakota State University . Here's what Dr. Julie said about sports drinks:
Joe: When should you drink sports drinks like Gatorade or Powerade?
Dr. Julie: If you are exercising at a high-intensity level for more than an hour, you might need a sports drink. However, for most people, water is the most important beverage for rehydrating before, during and after sports or recreational activities such as golfing, playing tennis, biking or gardening. As soon as you eat a nutritious snack or meal, you will make up for any nutrient losses.
According to some researchers, people who exercise less than an hour do not see an enhancement of their athletic performance as a result of drinking sports drinks. If you are an elite athlete exercising for more than an hour, then a sports drink may be needed on a regular basis. However, even elite athletes who are burning large amount of calories consider the nutrient density of the beverages they are consuming.
Bottom line: For most situations, bringing your water bottle instead of a sports drink bottle will work just fine. You will save money, too.
Joe: When shouldn't you drink sports drinks?
Dr. Julie: If you are exercising less than an hour, you really do not need a sports drink. Some people sip sports drinks when they are not exercising, which simply adds calories to your diet and money out of your food budget.
Joe: What about electrolytes, are they important to keep replenished? If so, is there a way you can replenish electrolytes without all the sugar?
Dr. Julie: Some researchers call low-fat or fat-free milk the new sports drink. It provides protein for building muscle and minerals/electrolytes that active people may lose through perspiration. In some studies comparing milk to sports drinks for use in endurance and strength activities, milk has performed better.
Joe:What about kids, should they be drinking sports drinks?
Dr. Julie: Sports drinks often are marketed with "cool" names that appeal to kids, but children do not need to consume these as everyday beverages. Childhood obesity remains an issue of great concern nationwide, and many experts point to high-calorie beverages as contributing to the issue. Many sports drinks provide empty calories from the added sweeteners.
Sometimes children and adults may become confused by the nutrition information on the bottles of beverages, especially by the serving size. A large bottle might have two or three servings, and a child or teen might consume the entire bottle. The nutrition information listed on the Nutrition Facts label is based on one serving, not "one bottle."
Consider the situation and intensity of the exercise. If children are very active playing sports on a hot day, then a reduced-calorie sports beverage might be useful, especially if it encourages the children to drink more liquid.
Joe: Is there a healthier alternative to sports drinks?
Dr. Julie: The most important beverages for growing children are water, low-fat or fat-free milk and 100 percent fruit or vegetable juice. Many children fall short of the recommendation for three cups of calcium-rich milk per day. In fact, just 36 percent of boys and 14 percent of girls get enough calcium.


Parents need to be aware that many fruit-flavored beverages on the market contain no fruit, so they should look for the "100 percent juice" designation. Some of the calorie-free flavored waters also appeal to children.
You also can "eat" your fluids by consuming lots of fruits and vegetables, too. Many children and adults do not meet today's fruit and vegetable recommendation (4.5 cups daily, on average). Fruits and vegetables are excellent sources of water as well as nutrients. Be creative! Most kids like watermelon chunks or frozen grapes to cool down and rehydrate on a hot day.
Thank you Dr. Julie Garden-Robinson for the great interview!