Getting started with a lean lifestlye requires a few essentials to help you on your way. Here are 7 essential tools that anyone that wants to live lean should have!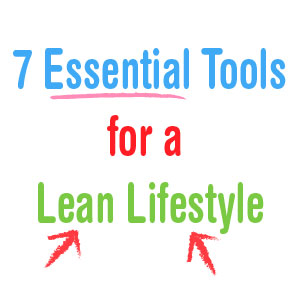 Good Shoes – You can't get in a good workout without protecting your feet! Invest in a good pair of shoes. Have the shoe store tell you what kind of shoe you need. Also, we are conditioned to buy shoes that are too big for us (thanks mom), get your feet professionally measured before you purchase your new kicks!

Breathable Clothes – Workout clothing has come a long way. There are a ton of good workout shirts/tops and shorts that make life a lot easier when you're feeling the burn! After-all, you want to be comfortable when you're finishing that last mile!

Water Bottle – Stay hydrated and protect the environment at the same time. Instead of using a endless supply of plastic water bottles, spend a few bucks on good reusable one!

Kitchen Tools – A few weeks ago I did a post on essential kitchen tools for weight loss. The kitchen is your lean life mecca, treat it that way. Also, it wouldn't hurt to take a cooking class or two to get comfortable in the kitchen!

Planner– "Failure to plan is planning to fail." You don't necessarily need a paper planner, you just need something that you can keep track of your progress, when you workout, and your goals! My favorite is a white board with a calendar, it's perfect to use everyday. I write my goals and track my progress on mine!

Bed – More and more studies are showing that people that don't get enough sleep struggle with weight. Get a good bed, rest up, and slim down!

Professional Help– Whether it's a workout DVD, a group of friends, a new gym, a group exercise class, or finding a personal trainer, get some guidance. You would be surprised how a little accountability makes the biggest difference!

Now you got to tools, now it's up to you to use them!