Happy Friday! Here are some rapid fire Ask Joe Questions!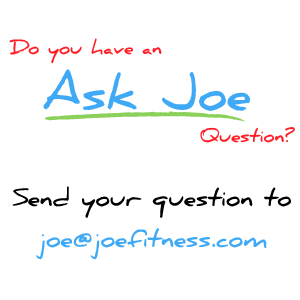 "Hey Joe! Why can't I seem to lose the weight around my belly but everywhere else seems to get slimmer?"
You really can't control where you lose weight from. The fat around your belly is surrounds your vital organs, so it's likely that you will loose weight in your arms and legs before your mid-section. However, you still will lose inches around your waist. Just be patient and stay consistent!

"Is it okay to workout late at night?"
If you are a "night owl" and prefer to workout at night, sure! The one caveat is making sure you get enough sleep. Numerous studies are showing weight loss and sleep are related.

"I live out of town away from any gyms, what can I do to workout?"
Here's what I would do: Try to get a group of you together and do an exercise DVD together. Make everyone in the group accountable to show up and track each others progress.

If you have any "Ask Joe questions" send them over to joe [at] joefitness.com!