Workout panic! You might not make it to the gym over the Thanksgiving holiday! I know you all are stressing out over this… Let your anxiety subside because here are two fast paced workouts you can do, no equipment needed!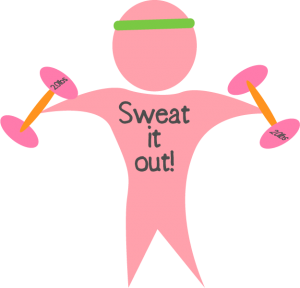 Turkey Day Meltdown
Jog In Place 60s
Mountain Climbers x50
Jumping Jacks x40
High Knees x30
Push-Ups x20
Side Lunges x10 (each side)
Sumo Jump Claps x20
Single Leg Sit-ups x15 (each side)
Tomahawk Crunches x40
Plank 60s
Complete 3 rounds if you want it easy
Complete 4 rounds if you are tough
Complete 5 if you have turkey meal guilt
Stuffing Burn-Off
Jumping Jacks 45s
Push-Ups x20
High Knees 45s
Air Squats x20
Jumping Lunges 45s
V-Ups x20
Mountain Climbers 45s
Close Grip Push-ups x10
Up-six 45s
Complete 3 rounds for easy
Complete 4 rounds for not so easy
Complete 5 rounds if you should of stayed away from that pie
Want even more workouts? I posted 11 fat-burning bodyweight workout outs here: http://joefitness.areavoices.com/2012/11/13/11-fat-burning-equipment-free-workouts/
Exercise Descriptions & Notes
Side Lunge – Lunge to the side, touching the ground beside your outside foot.
Tomahawk Crunch – Lie on your back, feet straight up in the air, with your hands together and arms straight, touch the ground behind your head and then push your arms past the right side of your feet raising your shoulder blades off the ground, bring your hands back to the ground and repeat on the left side.
Air Squats – Just like a normal squat, keep your hands out in front of you, be sure to get your butt below your knees each time while keeping your back straight.
Close Grip Push-ups – Like a normal push-up except put your hands in a "diamond" position.
Single Leg Sit-ups – Lying on your back, legs straight, with one foot off the ground six inches, sit all the way up touching your elevated foot with both hands.
Sumo Jump Clap – Just like a jump squat. Touch the ground each time with your palms, jump up in the air clapping your hands above your head.
Up-Six – Lying on your back, legs straight on the ground, with your hands under your butt, left your legs six inches off the ground while tucking your chin in your chest.