Sticking to a weight loss program can be difficult. Here are 5 easy ways to help you get lean and see results.
Commit With Friends – Find a friend or a group of friends that will be a great support group. Create a pact between you and them to not let each other slip on their goals. By far my most successful weight loss stories are the ones that had a strong support group in the beginning.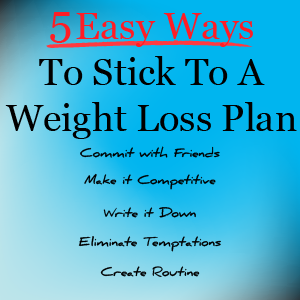 Make It Competitive – Whether it's cold hard cash from a weight loss office pool or just bragging rights at family get-togethers, competition will drive you to see results!
Write it Down – I will say this over and over again, write down your goals and review them daily. Making good decisions starts with having the right mindset. Reviewing your goals often reinforces the big picture and helps you visualize you to see success!
Eliminate Temptations – Get rid of all the junk food in your kitchen and office. The key to sticking to a solid weight loss plan is eliminating the temptations that could bring you down.
Create Daily Routines – Create daily rituals like cooking a healthy dinner or going for a walk at night are good ways to make sure you stay true to your weight loss plan.
Losing weight doesn't need to be difficult. If you keep things simple by following these tips, you too will see weight loss success!
IF you liked this post you'll LOVE this one: Seven Secrets of a Successful Weight Loss Plan (Tough Love Edition)